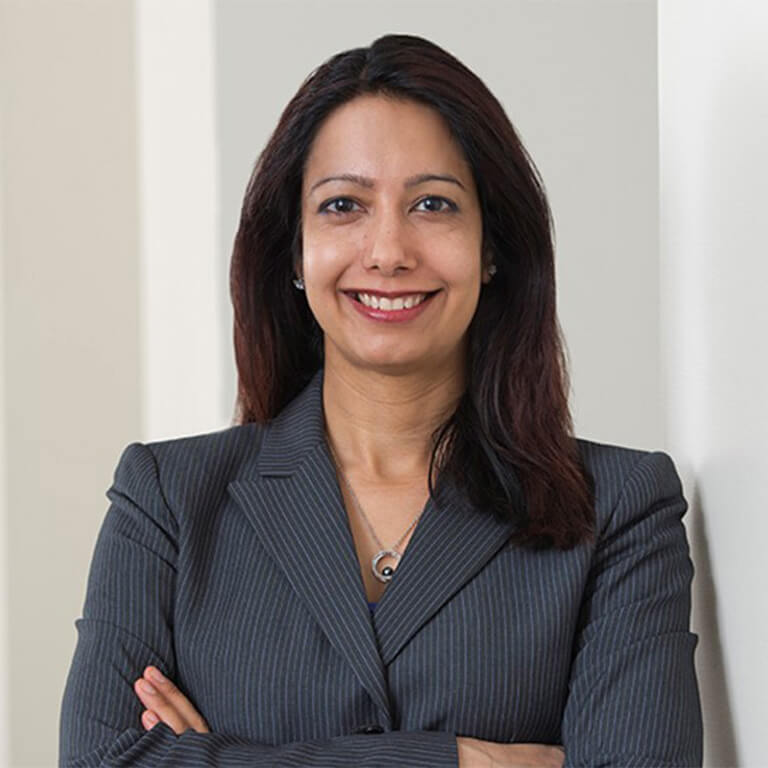 Phone:

(812) 856-7238

Email:

ranas@iu.edu
Campus:

IU Bloomington
Professor Rana joined the Hamilton Lugar School faculty in 2017, focusing on international law practice and human rights law. She is also the director of the International Law and Institutions degree program, a joint endeavor by HLS and IU's Maurer School of Law.
As assistant dean for curricular and undergraduate affairs, Rana works to develop and strengthen curricular offerings for undergraduate students and expand experiential and global learning opportunities. She is also the Hamilton Lugar School's Diversity Officer and oversees the school's recruitment, professional development and career services, and Living-Learning Center teams. She was instrumental in the creation of the Global Leaders and Professionals Program, which prepares HLS students for post-graduate careers, as well as the development of the International Law and Institutions degree program.
Rana has a broad range of leadership and other experience in academia, legal practice and international human rights organizations. Prior to coming to IU, she served as Of Counsel at Brooks Pierce LLP, where she helped grow the firm's international law practice, and she has also served as a Social Affairs Officer at the United Nations, where she worked on international women's human rights issues and treaties. Prior to joining the IU faculty, she was a professor at the University of Maryland Law School, where she co-developed the school's international law clinic, and was also a visiting professor at the UC Berkeley School of Law. Rana's other legal experience includes serving as a judicial law clerk for the Hon. James R. Browning at the U.S. Court of Appeals for the Ninth Circuit, and practicing in the areas of international, corporate and regulatory law at Williams & Connolly LLP in Washington, DC and Quinn Emanuel LLP in San Francisco, CA. As a member of the HLS faculty, Rana has led annual student delegations to the UN's Commission on the Status of Women, and has worked with students and NGOs to produce and publish human rights reports.
Rana is a frequent speaker and author on international and comparative law topics, including international women's rights, corporate social responsibility, business technology policies and regulation, and immigration and refugee law. She recently testified before the Indiana legislature on women's rights and reproductive health legislation and has filed a number of Supreme Court and federal court amicus and merits briefs on immigration and refugee law issues.
Rana is also an active member of the Bloomington community, having served on a number of community organizations and boards. This includes a mayoral appointment to the City of Bloomington Commission on the Status of Women.
Educational Background
J.D., Columbia Law School
M.Sc., International Relations, London School of Economics and Political Science
B.A., University of California, Berkeley
Representative publications
Recent amicus briefs
Brief of Seven Immigration/Administrative Law Professors as Amici Curiae in Support of Respondents, U.S. Supreme Court, Nielsen v. Preap, August 13, 2018
Brief of Administrative Law Professors as Amici Curiae in Support of Petitioner, O.L.B.D. v. Sessions/Whittaker/Barr, U.S. Court of Appeals for the First Circuit, March 11, 2019
Brief of Administrative Law Professors as Amici Curiae In support of Plaintiffs, Grace v. Sessions, U.S. District Court for the District of Columbia, September 28, 2018
Selected journal articles, book chapters, and other works
Navigating the Backlash Against Global Law and Institutions, AUSTRALIAN YEAR BOOK OF INTERNATIONAL LAW (forthcoming 2020) (with Peter Danchin et al.).
The Populist Backlash to Gender Equality in International Fora: Analyzing Resistance & Response at the United Nations, 35 MARYLAND JOURNAL OF INTERNATIONAL LAW (forthcoming 2020).
The Global Battle over Copyright Reform: Developing the Rule of Law in the Chinese Business Context, 53 Stanford Journal of International Law 89 (2017). 
The Emergence of New Corporate Responsibility Regimes in India and China, 14 U.C. DAVIS BUSINESS LAW JOURNAL 175 (2014) (Invited article) (with Afra Afsharipour).
Taxation and Incentives in the Business Enterprise, in ENTERPRISE LAW: CONTRACTS, MARKETS, AND LAWS IN THE US AND JAPAN (Edward Elgar Press, 2014) (with David Gamage).
Philanthropic Innovation and Creative Capitalism: A Historical and Comparative Perspective on Social Entrepreneurship, 64 ALABAMA LAW REVIEW 1121(2013).
Teaching Amidst Transformation: Integrating Global Perspectives on the Financial Crisis in the Classroom, 8 JOURNAL OF BUSINESS & TECHNOLOGY LAW 197 (2013).
Chevron Without the Courts? The Supreme Court's Recent Chevron Jurisprudence Through an Immigration Lens, 26 GEORGETOWN IMMIGRATION LAW JOURNAL 313 (2012).
The Emergence of the New Chinese Banking System: Implications for Global Politics and the Future of Financial Reform, 27 MARYLAND JOURNAL OF INTERNATIONAL LAW 215 (2012).
"Streamlining" the Rule of Law: How the Department of Justice Is Undermining Judicial Review of Agency Action, 2009 UNIVERSITY OF ILLINOIS LAW REVIEW 829 (2009).
From Making Money Without Doing Evil to Doing Good Without Handouts: The Google.org Experiment in Philanthropy, 3 JOURNAL OF BUSINESS & TECHNOLOGY LAW 87 (2008).
Fulfilling Technology's Promise: Enforcing the Rights of Women Caught in the Global High-Tech Underclass, 15 BERKELEY WOMEN'S LAW JOURNAL 272 (2000).